The following program building models are free to download and use within your organization.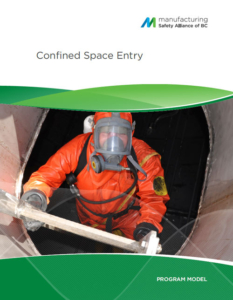 A confined space is an enclosed or partially enclosed area that is big enough for a worker to enter. It is not designed for someone to work in regularly, but workers may need to enter the confined space for tasks such as inspection, cleaning, maintenance, and repair. A small opening or a layout with obstructions can make entry and exit difficult and can complicate rescue procedures. Some common examples of confined spaces that can be found in a workplace can include manholes, sewers, boilers, pipelines, tunnels, wells, storage tanks, trenches and silos, etc.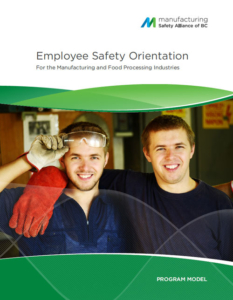 The Employee Safety Orientation for the Food manufacturing & food processing industries addresses the industry need for a visual training tool. This program model introduces some common workplace health and safety elements, and is designed to accompany and be used in conjunction with the workplace orientation program. The manual is intended for new employees joining the manufacturing and food processing industry. It incorporates various learning styles to assist workers in understanding basic safety concepts. The manual is not a training program, and is not designed to be used independently to perform employee orientations.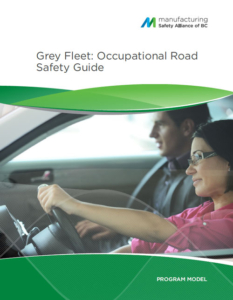 The Manufacturing Safety Alliance of BC's Occupational Road Safety Guide has been developed to provide guidance to an organization in implementing a grey fleet program at their workplace.

This guidebook was developed taking into consideration WorkSafeBC's OHS regulations cover the risk factors, identification by assessment, and controls to be put in place. They also state the components of a grey fleet program by discussing the education and training needed and the evaluation of the program.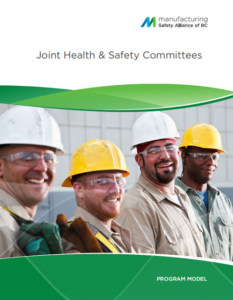 A Joint Health and Safety Committee (JHSC) is a primary component of any employer's occupational health and safety management system. It helps to address one of the basic rights of workers, the right of participate in workplace health and safety. JHSC have been a legal requirement for all BC workplaces with 20 or more workers since 1977.

The JHSC is made up of worker members selected by members of the workforce and management members appointed by the employer.

The role of the JHSC is to assist the employer in identifying health and safety hazards, recommending means of controlling such hazards, support health and safety initiatives and act as an OHS resource in the workplace.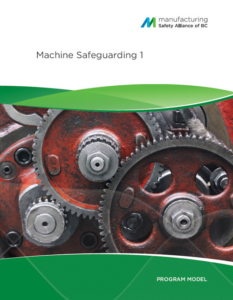 Safeguarding refers to a variety of controls that are applied (generally) to machinery and equipment in an industrial manufacturing environment. The OHS regulation in British Columbia defines a safeguard as follows: "Safeguard" means the use of a guard, a safety device, a shield, an awareness barrier, warning signs, or other appropriate means, either singly or in combination, to provide effective protection to workers from hazards; [OHS Regulation 12.1 Definitions].

The purpose of a safeguard is to reliably protect a worker from danger. Where safeguarding is applied, risk reduction is achieved in part by the reliability of the devices used in conjunction with the performance level of the circuit they are integrated to.
This model is the second model of a two-model set. We have not repeated the information from the first model; please ensure that the first model has been reviewed for basic safeguarding information.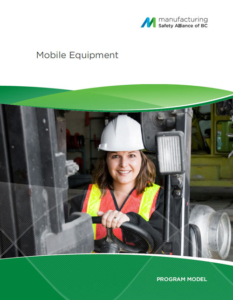 Mobile equipment is defined as "a wheeled or tracked vehicle which is engine or motor powered, together with attached or towed equipment, but not a vehicle operated on fixed rails or tracks". This type of equipment normally operates within the boundaries of a workplace property and it is the responsibility of the employer to develop a program that ensures the health and safety of equipment operators or workers carrying out tasks in the vicinity of mobile equipment.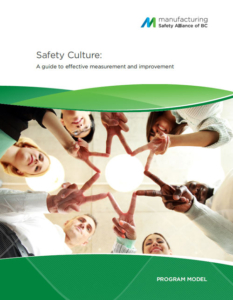 A strong safety culture is an "atmosphere" within the organization that influences safe behaviour. It is more than an official program and must be ingrained in both the formal and informal activities of an organization. It is what happens when nobody is watching. It is when people are proud of their safety performance. It is when they have internalized the need to be safe. A strong safety culture must become a way of life for every employee at every level of the organization.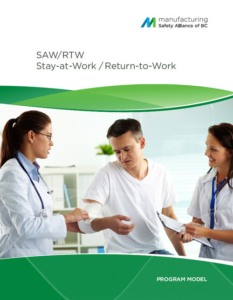 The following Stay‐at‐Work/Return‐to‐Work (SAW/RTW) process model is driven by the need to reduce unnecessary work absence, job loss, and associated negative consequences when employees experience health‐related incidents that affect their ability to perform their usual jobs. The SAW/RTW process provides employees with health‐related incidents the financial, social and psychological benefits and stability of remaining in the workforce. This model is based on the belief that you don't get better and then go back to work; you go back to work to get better.