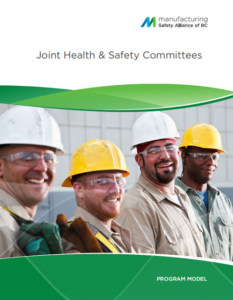 GUIDEBOOK

Joint Health and Safety Committee Model
A Joint Health and Safety Committee (JHSC) is a primary component of any employer's occupational health and safety management system. It helps to address one of the basic rights of workers, the right of participate in workplace health and safety. JHSC have been a legal requirement for all BC workplaces with 20 or more workers since 1977.

The JHSC is made up of worker members selected by members of the workforce and management members appointed by the employer.

The role of the JHSC is to assist the employer in identifying health and safety hazards, recommending means of controlling such hazards, support health and safety initiatives and act as an OHS resource in the workplace.