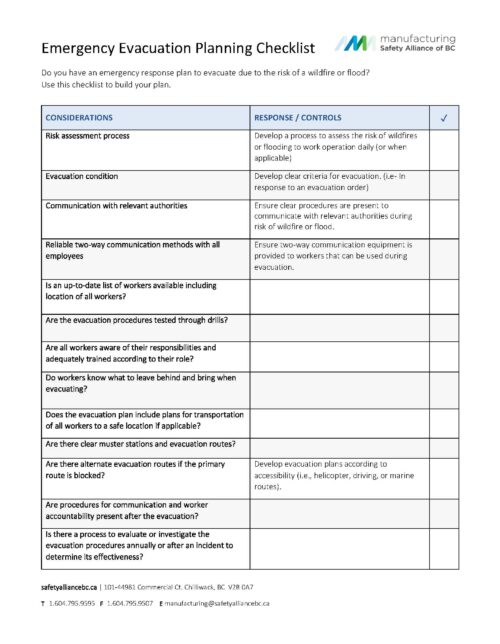 CHECKLIST
Emergency Evacuation Planning Checklist
Do you have an emergency response plan to evacuate due to the risk of a wildfire or flood?
Use this checklist to build your plan.
CONSIDERATIONS
RESPONSE/CONTROLS
Risk Assessment Process
Develop a process to assess the risk of wildfires or flooding to daily work operation (or when applicable)
Evacuation Condition
Develop clear criteria for evacuation. (i.e. In response to an evacuation order)
Communication with relevant authorities
Ensure clear procedures are present to communicate with relevant authorities during risk of wildfire or flood.
Reliable two-way communication methods with all employees
Ensure two-way communication equipment is provided to workers that can be used during evacuation.
Is an up-to-date list of workers available including location of all workers?
Are the evacuation procedures tested through drills?
Are all workers aware of their responsibilities and adequately trained according to their role?
Do workers know what to leave behind and bring when evacuating?
Does the evacuation plan include plans for transportation of all workers to a safe location if applicable?
Are there clear muster stations and evacuation routes?
Are there alternate evacuation routes if the primary route is blocked?
Develop evacuation plans according to accessibility (i.e., helicopter, driving, or marine routes).
Are procedures for communication and worker accountability present after the evacuation?
Is there a process to evaluate or investigate the evacuation procedures annually or after an incident to determine its effectiveness?