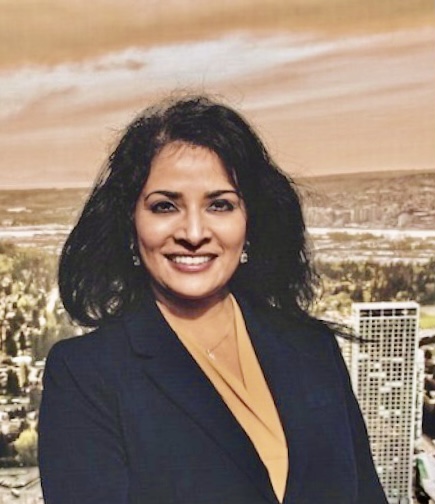 Anita Huberman
H. Captain, Royal Canadian Navy
President, Surrey Board of Trade
Surrey Board of Trade
Anita Huberman has been the President & CEO of the Surrey Board of Trade for 17 years for one of the top 10 Boards of Trade/Chambers of Commerce in Canada, and for one of the largest cities in Canada. She has been with the Surrey Board of Trade in a variety of roles for 30 years. Anita and her team serve more than 6,000 member contacts.
In 2022, Anita won SFU's Distinguished Alumni Award.
In 2021, she was announced as being 1 of 15 Outstanding Canadians for her work in the private sector and through the pandemic.
She is an Honorary Captain of the Royal Canadian Navy (appointed by Canada's Minister of National Defence, just re-appointed for her third term till 2024), holds the Queen's Diamond Jubilee Medal, was a Business in Vancouver Top 40 Under 40 award winner, awarded the 2019 Surrey Community Builder of the Year and received a Canada 150 Community Medal.
Anita Huberman's record of community service includes:
1. Co-Chair of Canada's Disability Business Inclusion Council
2. Surrey Representative for the Invest Vancouver Management Board: The standing committee of the Metro Vancouver Regional District (MVRD) Board responsible for providing strategic oversight and guidance for the Regional Economic Prosperity Service
3. Board Director for the Forum for International Trade Training (FITT)
4. BC Premier's Economic Task Force
5. BC Economic Development Minister Industry Engagement Table
6. SFU President's Advisory Council
7. SFU India Advisory Council
8. KPU Business Program Advisory Committee
9. OMNI TV Advisory Council, Destination BC Advisory Council
10. Director for IC-Impacts Research Centre of Excellence (for improving the lives of people in India and Canada, particularly in First Nations communities).
11. Anita also served as a Trustee of Canada's National Film Board for six years, appointed by Canada's Minister of Heritage.
Anita is a highly visible advocate for Surrey businesses at all levels of government with a demonstrated history of evolving, reinvigorating and transforming civic, business & social organization industries.