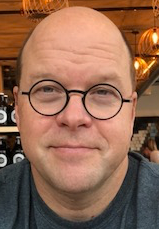 Ian Rood
AScT, P.Tech, CHSC, FS Eng (TÜV)
Ian is responsible for overseeing areas of Machine Safety Consulting and Control Systems design. He has over 20 years of experience in the field of Machine Safeguarding and Control Systems Integration.
Ian has managed projects for companies as diverse as Toyota Motor Manufacturing North America (for design and installation of a retrofit on multiple tandem press lines with automated press to press transfer systems), PLC/Scada – Lafarge (Control systems specification, development and support), and Olivierri, (analysis and setup of safety systems).
In addition, Ian has developed a UBSafe Modular Workplace Safeguarding Training System – a comprehensive system for training in risk assessment and CSA standards – that he's delivered to clients such as WorkSafeBC, FIOSA/MIOSA and numerous others. Ian is a Certified Professional Technologist (ASTTBC) and Functional Safety Engineer (certified by TÜV).