Sponsored by the British Columbia Ministry of Post-Secondary Education and Future Skills, the Manufacturing Safety Alliance of BC has been working in cooperation with industry partners since 2016 on a Sector Labour Market Partnership. This project works to define the core competencies and knowledge needed by OHS professionals to meet the evolving health and safety needs of the manufacturing sector.
Two key tools will soon be available to help employers and OHS professionals assess skills and knowledge. Sign up to participate in the pilot test of new online tools
Sign up for the pilot program:
Phase 4 Core Competencies in Occupational Health and Safety
The goal of this current phase of the project is to develop a set of occupational competency standards for the OHS professional in manufacturing. These standards will clarify for employers the specific capabilities an applicant brings to an OHS role, cutting through the confusion created by the varied OHS certifications and designations available in Canada. 
There may be as many as 300 occupational health and safety designations and certifications in Canada (Putter, K., OHS Canada, 2015), ranging from diplomas to assessment-based systems, each of which has different requirements and offers different guarantees of competency. The Market Information Research Report completed in Phase 3 of this project noted the different designations do not provide sufficient  clarity for BC employers as to what an OHS professional can actually do in a given business situation.
As a result, the process of determining whether or not a given professional has the required skills and competencies for a given role can be frustrating both the employer and the OHS professional. As an example, the requirements for certification from both the CSSE and BCRSP were found overall to be highly focused on tenure, as opposed to demonstrated skills and competencies. There is no clear set of skills or competencies possessed by a holder of these designations.
This new standard is not being developed to determine who is (or is not) qualified to be an OHS professional. It is intended to provide clarity on the diversity of skills and competencies needed for a professional working within the manufacturing sector. The standard may also eventually be useful as a roadmap for professional development and a basis for accreditation, education ,and training programs for OHS professionals in BC. 
1. Review and Comparison of International Frameworks
Phase 4 involved an extensive comparison of core competencies defined by the International Network of Safety and Health Professional Organisations (INSHPO) and the Institution of Occupational Safety and Health (IOSH) frameworks, and in the Occupational Safety Standard of Excellence audit to build a comprehensive master list. This master list outlines general areas of competence as well as detailed descriptions, regulatory requirements, and prerequisites for each specific OHS competency.
2. Industry-Specific Competencies
The next step in this phase of the project involves a comprehensive, facilitated consultation with BC-based manufacturers regarding industry-specific competencies not defined in the international frameworks. Similar consultation will be done in parallel among inter-provincial partners and industry consultants.
The first step in the standardization process begins with defining what activities OHS professionals should be capable of performing for a manufacturing employer. 
In this phase of the project, the committee has developed a draft framework of those competencies for manufacturing sector OHS professional. These have been developed based on existing standards, primarily IOSH and INSHPO, and further refining them, with the help of subject matter experts, from a manufacturing–specific lens. 
We are seeking input from manufacturing employers to validate these draft standards, focusing on three questions: 
Is there any subject or content missing from the Standard?

 

Is there any subject or content in the Standard which is not relevant to BC manufacturers?

 

Is the Standard as developed sufficient to meet the needs of the manufacturing sector in BC?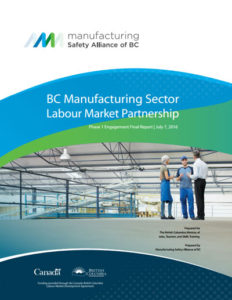 Industry partners consulted in Phase 1 Labour Market Study, which completed in July of 2016, identified a number issues, including the increased competition for OHS professionals, changing workforce demographics, rising OHS standards, limitations on OHS education and training, and OHS competencies. These issues became the focus of the Phase 2 OHS Labour Market Information Research.
The Phase 3 report contains an industry-validated strategy and sustainability plan for the OHS profession in the BC manufacturing industry, with potential implications for the profession in BC and Canada. Strategy development included establishing a vision to guide implementation, and defining priorities for the creation of effective training tools and relevant career-path information for OHS job seekers and employers.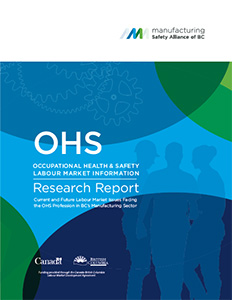 Phase 2, which was completed May 2017, analyzed the status of OHS professionals within the manufacturing sector. Work included a supply and demand forecast for OHS professionals as well as a review and analysis of education and training programs and skill requirements. The results of Phase 2 are being used in Phase 3 Strategy Development to identify and prioritize actions to address the strategic issues substantiated through the labour market research.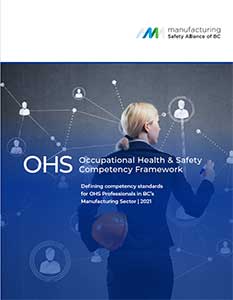 Phase 4 defined the competency standards for OHS professionals in BC's manufacturing sector. Completed in 2021, this OHS Competency Framework defines the body of knowledge and skills for the OHS profession as a critical step in establishing standards for the OHS profession, beginning with the manufacturing sector. It lays the groundwork for ultimately establishing accredited paths for professionals to develop robust OHS competencies.