CKF Inc. Combines Environmental Sustainability with Safety
Jean Fong
A huge congratulations to CKF Inc., a Manufacturing Safety Alliance of BC member, for officially opening a new building in their Langley operations. This building marks their partnership with EarthCycle Packaging and a move towards increasing their production of environmentally sustainable food packaging. Since 2018, CKF Inc. has worked to integrate safety into their operations and goals of producing disposable tableware and food packaging that is 100% recyclable and compostable and reducing their green house gas emissions by 60 percent.
CKF Inc. and their approximately 1,100 employees supply approximately 60% of all disposable food packaging for the entire province—from egg cartons to blueberry containers— and is one of the largest employers in Langley. It is a family owned and run business that is still very much a cornerstone of its community and many families. In its 90 year history, the company boasts a number of workers who have been part of its operations for more than 25 years.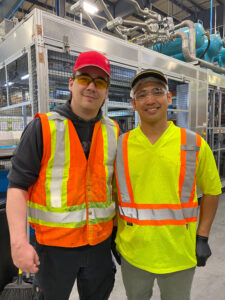 Sean (pictured on the left) has worked at CKF Inc. for the last 18 years and shares that he is proud of their safety culture. 
As one of the first aid attendants for the company, he understands that accidents are inevitable, but the emphasis on reporting near misses means that there is an opportunity to learn, grow, and make their work safer every day. Safety is top of mind for all staff and everyone participates in their safety program.
Since achieving OSSE Certification in 2019, CKF Inc. has been the recipient of a Topaz Pinnacle Award, Sapphire Pinnacle Award, Emerald Pinnacle Award, two Fantastic Four Risk Control Leader Awards (recognizing demonstrated excellence in four key areas of manufacturing safety), and Amit Golan received the coveted Soaring Eagle Leadership Award in 2023.

Click here to read more about CKF Inc.'s grand opening.