Sentinel Cottage: Salmon Arm manufacturer connects families 
Kathy Sigstad
Throughout the past year, manufacturers around BC have pivoted production lines to produce personal protective equipment such as hand sanitizer and face shields, addressing chronic shortages of these important items.  
With immunizations finally beginning to open up visitation in our province's long-term care homes, the innovative work of a Salmon Arm manufacturer over the past year has helped bridge the gap between lonely residents and their families. 
At ADAM Integrated Industries, the design of the Sentinel Cottage—a 30- by 10-foot portable visitor's centre that can be plugged in outside a care home facility provided a safe environment for family visits.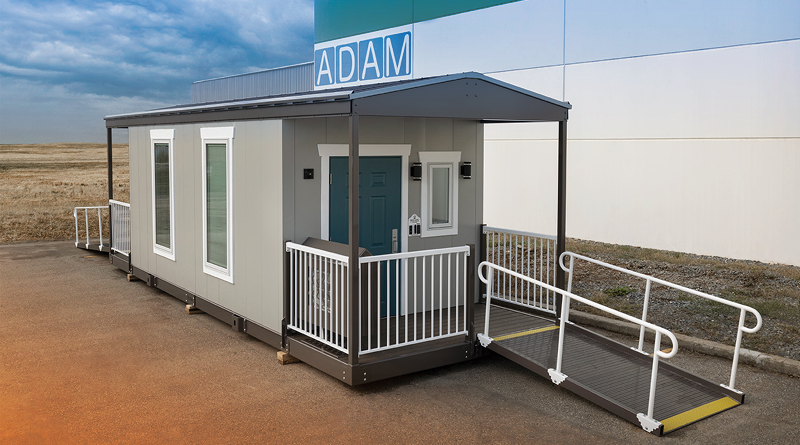 "Inside are two self-contained, environmentally controlled rooms separated by a floor-to-ceiling glass wall," noted George Rithaler, manager of business development for the manufacturer.
Visitors and residents are protected in their own, safe bubbles, with separate entrances, air filtration systems, sanitation systems, and hands-free access for a safe and comfortable visit.  
Each room also features its own entrance, sanitation station, air filtration system and hands-free microphone to create an intimate visitation experience.  
While vinyl chairs and hard surfaces make sanitation between visits easy, the glass wall between the two rooms allows mask-free visits, and integrated vinyl sleeves and gloves allow visitors and residents to sit and hold hands—providing a level of contact not possible over FaceTime or Skype. 
While the company sees potential for the Sentinel Cottage to support safe visits to care-home residents during cold and flu season as well, the COVID-19 pandemic magnified the need. While many Canadians have felt the isolating effects of pandemic quarantine, Sentinel Cottage represents a BC-made solution for some of the most vulnerable in our communities.