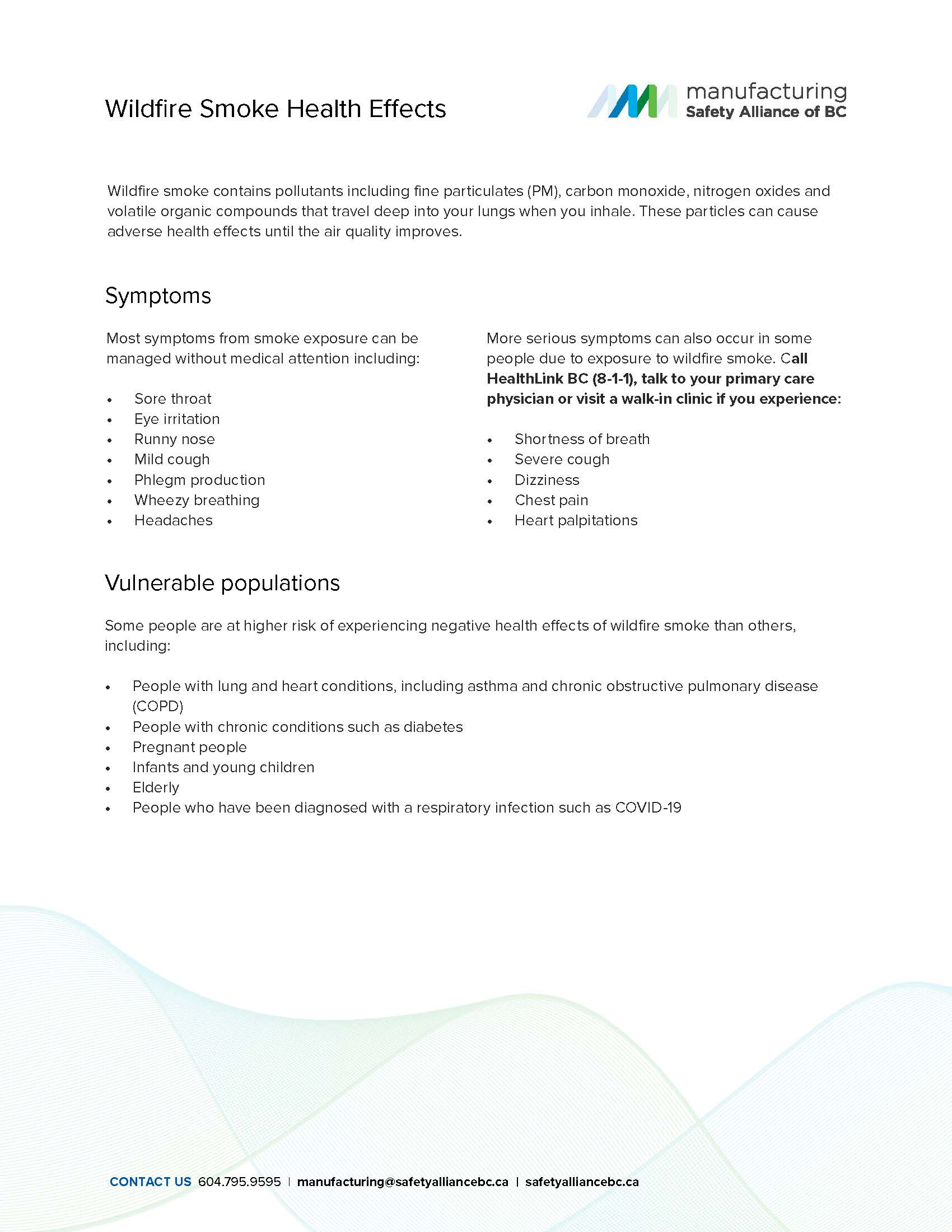 Downloads: 20
QUICK REFERENCE CARD
Wildfire Smoke Health Effects
Wildfire smoke contains pollutants including fine particulates (PM), carbon monoxide, nitrogen oxides and volatile organic compounds that travel deep into your lungs when you inhale. These particles can cause adverse health effects until the air quality improves.
Symptoms​
Most symptoms from smoke exposure can be managed without medical attention including:
Sore throat

Eye irritation

Runny nose

Mild cough

Phlegm production

Wheezy breathing

Headaches
More serious symptoms can also occur in some people due to exposure to wildfire smoke.
Call HealthLink BC (8-1-1), talk to your primary care physician or visit a walk-in clinic if you experience:


Shortness of breath

Severe cough

Dizziness

Chest pain

Heart palpitations
Vulnerable populations​
Some people are at higher risk of experiencing negative health effects of wildfire smoke than others, including:
People with lung and heart conditions, including asthma and chronic obstructive pulmonary disease (COPD)

People with chronic conditions such as diabetes

Pregnant people

Infants and young children

Elderly

People who have been diagnosed with a respiratory infection such as COVID-19
Wildfire smoke and air quality
In British Columbia, the Air Quality Health Index (AQHI) is calculated based on measurements of fine particulate matter (PM
2.5
), ground-level ozone (O
3
) and nitrogen dioxide (NO
2
) reported across BC. Please learn more about how the index is
calculated
from this
BCCDC Wildfire Smoke and the Air Quality Health Index Fact Sheet
. The AQHI can be monitored to check the outdoor air quality before heading off to work.
How to protect yourself from wildfire smoke
Outdoors
Use the Air Quality Health Index (AQHI) or PM5 concentrations to evaluate local and regional air quality conditions.

Know where to find other reliable information on wildfire smoke and air quality.

Relocate work to less smoky areas or reschedule outdoor work until smoke is cleared.

Reduce the amount of time spent outdoors. Stay indoors with the windows closed.

Reduce outdoor physical activity or exertion.

Be aware of safety issues due to wildfire smoke such as reduced visibility.

Be aware of health issues related to heat stress and heat exhaustion. Ensure workers stay hydrated by drinking lots of water.

Use a properly fit-tested, certified N95 half-face respirator to reduce exposure to smoke.

In vehicles, keep the vents and windows closed and operate air conditioning in re-circulation mode. Open windows in areas with good air quality to prevent build up of carbon dioxide.
Indoors
Inspect the HVAC system to make sure it is functional.

Check the HVAC system's air filters to ensure they are well maintained.

Temporarily reduce the intake of outdoor air. This should only be done in consultation with a qualified HVAC technician or ventilation engineer.

Reduce indoor particle levels in small areas by using individual portable air cleaners equipped with high-efficiency particulate air (HEPA) filters or electrostatic precipitators.