Emergency Response planning
Kathy Sigstad
Why planning for a "someday situation" better equips you to tackle challenges today
by  Lisa Thibault 
Earthquakes, forest fires, flooding, and viral outbreaks are just a few of the potential emergency scenarios we face in British Columbia. While some companies have crafted and rehearsed plans to address emergencies such as these, many in the past two years were forced to build a response plan on the fly in the highly charged early days of the pandemic. 
You did it. Your team rose to the challenge. But what toll did it take on your people and your business in those challenging first weeks? 
We typically think about emergencies as situations that might happen "someday"—but if the pandemic has taught us anything, it is that emergencies do happen, and that they require rapid decisions and responses. The lack of a clear plan in a crisis ratchets up the anxiety level for your team and puts your business at risk for casualties, property destruction, and financial losses. Many businesses significantly impacted by an emergency may never reopen. Developing an emergency response plan (ERP) before a crisis can help your business to survive a challenging situation. 
Elements of an Emergency Response Plan
The best time to handle an emergency is before it happens. Your preparation today will be invaluable WHEN an emergency does occur.  
Prepare, in advance, for emergencies that could reasonably happen in BC, including:  
Wildfires 

Earthquake

Power loss 

Severe weather such as ice storms 

Chemical or flammable liquid spills 

Bomb threats, terrorism, suspicious packages 

Landslides 

Flooding 

Pandemics and disease outbreaks 
In an emergency, your team will need to make quick decisions. Creating a plan and practicing it is important to improve your response time. With planning and practice, you can be confident that your team will be effective in facing any crisis—with significantly lower levels of confusion and anxiety than they so many faced in response to the pandemic. 
Your emergency response plan (ERP) provides the direction, guidance, training, and documentation to coordinate and manage your resources during an emergency. The goal of an ERP is to reduce the impacts of a crisis on your business, property, community, and people. 
In the planning stage, involve workers from across your organization, including your JHSC or Worker Representative and community partners. Communication, training, and practice (drills, tabletops and functional exercises) are critical for successful emergency planning. 
Reaping the benefits  
Proactive emergency response planning builds employee confidence for a stronger business culture—and helps ensure financial resilience for your company. 
Show your commitment to safety: Your emergency response plan supports health and safety awareness in the workplace and demonstrates to employees that your company is committed to their safety and well-being. It prepares your whole team to handle sudden and unexpected situations. 
Improve your health and safety management system: During planning, you may discover previously unrecognized hazards or risks in your workplace that could exacerbate an emergency. Now is the time to eliminate or mitigate these risks before an emergency occurs.  
Gaps could include: 
Missing equipment or supplies 

Training needs—particularly in emergency management procedures and first aid 

Out-of-date processes and documentation 
Minimize business losses: Preparing for an emergency can reduce its impact on your business and limit downtime and production loss. 
Engage with your staff: Develop and exercise your emergency response plan to ensure that your employees are confident that you are prepared for a crisis. Ensure that they understand how you will use the ERP to handle sudden and unexpected situations in the workplace. Confidence is a key factor in reducing anxiety and increasing job satisfaction. 
Promote general safety awareness: Assessment, reviews, training, and drills for your ERP also help workers become familiar with existing health and safety plans, equipment, and procedures to address workplace hazards. 
Prepare to be prepared
Emergencies are stressful situations with the potential to lead to significant losses. The work you do today to prepare your company for a potential crisis will reduce stress and help you make better decisions — minimizing the impact on your business and your people, and potentially saving lives. 
Looking for more guidance on building your ERP? Check out these courses: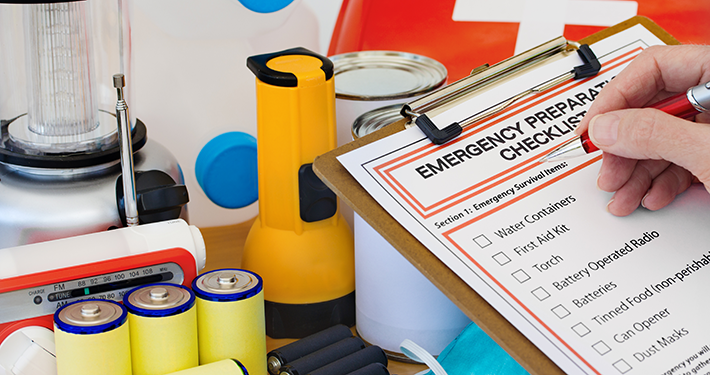 Emergency Response Awareness 
| This three-hour, self-paced online course explores the different types of emergencies encountered in manufacturing. The course provides a basic understanding of what to expect when responding to an emergency.
Emergency Response Planning | In this eight-hour instructor-led course, learn the keys to emergency response planning as a part of your health and safety plan. Your emergency response plan is a business continuity or contingency plan that defines: 
How you will respond to emergencies

 

How to continue operations in the event of an emergency

 

How to prepare your team for an emergency

 

The roles and responsibilities throughout your emergency response