Health and safety for small businesses
Kathy Sigstad
Regardless of size – protecting worker on the job is the right thing to do
In a small business, an employer often wears many hats, and one of those hats is protecting their workers from injury and illness in the workplace. Regardless of their size, employers are legally obligated to keep their workers safe.  
"When you first decide to open a new business, you just don't know that much about your obligations," said Wayne Arondus, Chief Operations Officer at the Manufacturing Safety Alliance of BC. "You may not know, for example, that once you employ and pay workers – whether regular, casual, or on contract – you must be registered and covered by WorkSafeBC." 
Of the more than 532,000 businesses in B.C., 95 percent (507,600) have fewer than 20 employees—and 83 percent have less than five employees. Western Canada leads the country in the number of small businesses and in small business growth. Between 2014 and 2019, the number of small businesses in B.C. grew 14.4 percent (well over the national average of 7.5 percent). 
"Three-quarters of our members in the Alliance are small and micro businesses, and many of them have a huge knowledge gap when it comes to knowing how to keep their employees safe," Wayne notes. "Our job is to fill that gap for small employers between when they register their business and when WorkSafeBC shows up on their door." 
Wayne recalls a recent experience with a micro employer who experienced a near miss after years without an incident in the workplace. The near miss exposed the fact that there were very few controls in place to manage workplace accidents – including no first aid kit, documentation procedures, or incident investigation capacity.
 Unfortunately, the near miss was followed less than a month later with a second accident that resulted in an amputation.   
"When you're a small business, you're so focused on make money and keeping your business afloat that you don't know how to start thinking about health and safety," said Wayne. "By the time you get around to it, it might already be too late to prevent that first accident."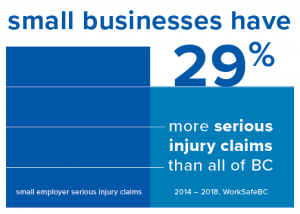 Many small business owners may not be aware that they have a legal obligation to protect their workers. Still, all B.C. companies–even small and micro employers–need to develop health and safety programs that comply with the Workers Compensation Act and the Occupational Health and Safety Regulation. A small business does not need the same formal safety program that a larger company does in most cases, but understanding the fundamental elements is the key to keeping workers safe.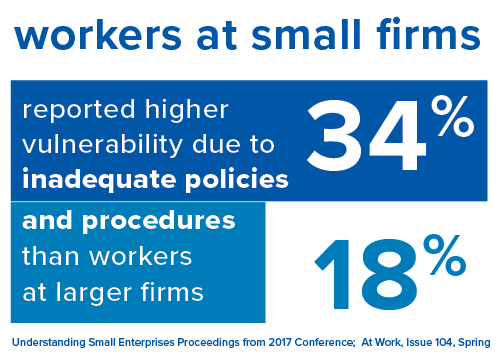 Employers with twenty or more workers AND a work environment with a moderate to high risk of injury must establish a formal health and safety program. Depending on the hazards, a WorkSafeBC officer may also determine that a formal and documented occupational health and safety program is necessary even in some small companies.
An effective, "informal" OHS program for a small business might include such things as monthly meetings with workers to discuss health and safety matters, regular walkabouts to determine safe work habits are in place, and check-ins with employees to discuss potential risks and hazards in the workplace.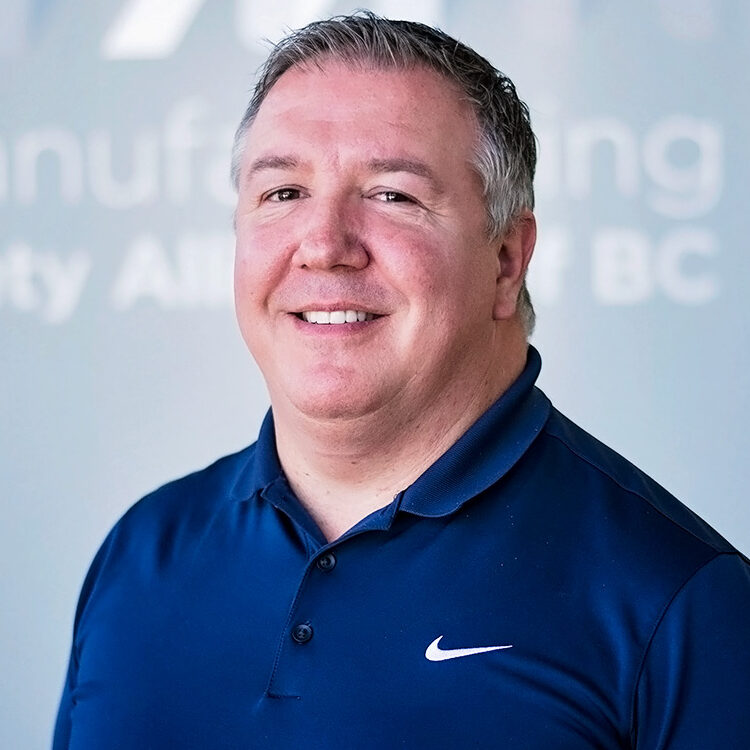 Safety is good business 
Small businesses are often so focused on keeping their company afloat that they don't know how to start thinking about health and safety—but health and safety is good business. Your vendors and customers see the news; a serious accident or death would not only devastate you and your small team—it could also be the factor that makes a customer decide to choose your competitor. That reputation factor is the key reason why some industry contracts even require businesses to take a step further and achieve formal health and safety certification.   
In addition, a company that prioritizes health and safety can also experience improved quality of their product or services through increased training, effective communication, worker engagement, and leadership commitment.  
Wayne reminds small employers to stop thinking that it will never happen to them. Even small steps like formally investigating accidents and near misses will help ensure they don't happen again. He adds, "A workplace injury can be life-altering. Do whatever is within your power to create a conversation about safety with your workers." 
Tips for small businesses to create a health and safety culture at work: 
Assign someone on your team to help you build and manage your health and safety program basics

 

Prepare a health and safety policy (check out our Small Business Centre for a template to develop your policy)

 

Conduct a risk assessment on the activities in your workplace

 

Regularly inspect your workplace for hazards

 

Teach workers how to do their jobs safely

 

Have regular health and safety check-ins with your team

 

Make health and safety part of your everyday operations

 

Ask your staff to talk about hazards they see on the job and fix any problems they report

 

Have adequate first aid equipment – even the smallest company needs a first aid kit on site

 
Small business centre – a "one-stop-shop" for all your health and safety needs online 
The Manufacturing Safety Alliance of BC has a website that provides small businesses with the tools, resources, templates, and training they need to build a successful health and safety management program. Here you will find: 
Program essentials to build the foundation of your health and safety program, including: 
Information about health and safety legislation in BC

Leadership, roles, and responsibilities

Hazard ID and risk management

Incident investigation

Injury reporting

Training

Workplace inspections
Information to take your health and safety program to the next level:
Emergency preparedness

Ergonomics

Fatigue management

Mental health

OSSE – COR for manufacturing
Industry-specific programs and controls:
Mobile equipment

Combustible dust

Industrial storage racking

And more… 
In addition to the Small Business Centre, two online courses teach small business employers the essentials: 
Small Business Fundamentals introduces the basics of occupational health and safety for small businesses in BC

Small Employer Building Program teaches the principles and concepts to build an occupational health and safety program 
These courses are available, for free, to Alliance small business members. 
Register on our website as a small business for FREE access to:
FIVE online courses (including Workplace Inspections, Incident Investigation, and Hazard ID)

Tools, templates, posters, and resources to build your health and safety program

Updates and information on health and safety in the workplace